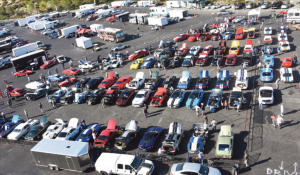 The Popular Vote Car Show has been part of SAAC conventions ever since the second one, in 1977.
While the judged concours car show is the benchmark for Cobra and Shelby standards of excellence, the popular vote show is just the opposite. There are no standards, and that's what makes it so enjoyable. It is open to every Ford-powered car. And while concours entrants strive to improve their cars by a half a point at a time, competition in the pop vote show is as low-key as it can get. Advanced registration is recommended, but not required: Show up, park your car, and step back so everyone else can enjoy seeing it.
The Popular Vote show is typically scheduled for the morning of the final day of the convention, to allow for the largest number of cars. Popular Vote Car Show classes are adjusted from year to year. Since there are no advanced registrations, there is no way of knowing how many cars to expect. So the classes are based on the number of cars that were entered in the show the previous year.